What's so great about a hoodie anyway?
While hoodies have long hogged the spotlight -- being the preferred option for sweatshirts -- times have started to change and crewneck sweatshirts are enjoying a resurgence.
Why a custom crewneck sweatshirt?
Crewneck sweatshirts have a few advantages over hoodies. First, for all of you budget-conscious people out there, crewneck sweatshirts are cheaper -- no hood means you save a bundle.
On average, a hoodie will run you $5-10 more than a comparable crewneck sweatshirt from the same company. For a direct comparison, look at the Gildan Heavy Blend™ Crewneck Sweatshirt (18000, available in 31 colors) vs the Gildan Heavy Blend™ Hooded Sweatshirt (18500, available in 33 colors).
Of course, the added cost doesn't just come from the hood -- a hoodie usually has a kangaroo pouch, too. Whatever the case, even if you're only saving $5 apiece, that'd add up to $60 on an order of 12 sweatshirts or $480 on 96. When you consider a custom sweatshirt with a one color screen-printed design might be $12 each if you order 96, that's a pretty major difference... and that alone might convince you to choose a custom crewneck sweatshirt over a hoodie.
More benefits to custom crewnecks than just savings
Although the price tag will likely be the biggest thing on many people's minds, there are other advantages, too.
For starters, a collar traps heat better because there's less space between the garment and your body where cold air can slip in -- and warmth can slip out. Even if you use a hoodie's drawstrings, there's going to be more of a gap because you'll have movement between the hood and the rest of the garment.
Second, if a jacket already has a hood, a crewneck sweatshirt won't get in the way. Otherwise, you'll have two hoods where you'll need to put on the inner hood before the outer one. And, considering a jacket's hood is usually the better of the two (when the jacket has a hood), it's a minor nuisance.
And some people just don't like drawstrings.
Five reasons to dislike drawstrings
1. They never seem to stay even.
2. They can distract from a design.
3. They always seem to fray way sooner than the rest of the garment. Always.
4. They can cinch uncomfortably.
5. They never seem to stay taut when cinching a hood.
The Style Factor
Ask yourself which of these two women look cooler. Her:
Or... her:
No contest, right?
Okay, it's a little unfair -- that's one totally rad pair of shades and a wickedly tubular skateboard. However, even when somebody isn't accessorizing to the EXTREME, there's a bit of a style difference between crewneck sweatshirts and hoodies. And, depending on a person's preference, that difference can make a lot of difference.
Even overlooking a style preference, you'll also have some people who don't like hoodies (or who might not like crewneck sweatshirts).
Otherwise, whether you go with a custom crewneck sweatshirt or hoodie can come down to the design being placed on it or how the custom clothing will be used. However, most of the time either one will work. And, when either thing will work and you're on a budget, your next thought may be...
"Okay, if either one will work, can we get back to the savings? Exactly how much cheaper is to customize crewneck sweatshirts?"
Can you put a price on a hood? Even if you can't, most companies will.
As previously mentioned, between just the hood and kangaroo pouch, a custom hoodie tends to be $5-10 more than expensive than a comparable custom crewneck sweatshirt.
Case-in-point?
Seen above is Gildan's Heavy Blend Hooded Sweatshirt (18500, available in 33 colors with either a print or an embroidered design), a great-quality 50/50 cotton/polyester from one of the absolute best manufacturers of blank apparel (ie, un-customized apparel -- the raw materials before we do our magic).
At the time of writing (Jan 18, 2023), you can buy 12 of these super-nice hooded sweatshirts (with a single ink color design in one location) for $23.89 each (or $286.68 altogether -- remember, we offer free shipping and, if you live outside Connecticut, it's tax-free, so that price would be the exact price you'd pay... on Jan 18, 2023, anyway). Of course, if you were buying 96 instead of just 12, that price goes down to $20.34 each (or $1,952.64 all-in which, again, reflects a single-color design).
(Don't worry, I'll cover an embroidery comparison a little later!)
For comparison, above is Gildan's Heavy Blend™ Crewneck Sweatshirt (18000, available in 31 colors with either a print or an embroidered design). Again, it's a great-quality 50/50 cotton/polyester from a top-notch blank apparel manufacturer known for producing incredibly consistent clothing (or, in other words, you always know what to expect with Gildan).
And, at the time of writing (again, January 18, 2023), you can buy 12 of these very-awesome Gildan custom crewneck sweatshirts (with a single-color print design in one location) at at $15.55 each (for a total cost of $186.60 -- again, you can get free shipping and there's no tax if you're outside of Connecticut). And when buying 96, that drops to $12 ea (or $1,152.00 for everything).
"Whoa, buddy! That's a lot of math! How much am I saving by customizing crewnecks?"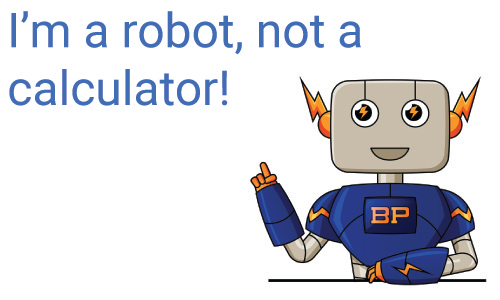 If you were buying just 12, you'd save $8.34 per custom sweatshirt ($23.89 - $15.55 = $8.34) by going with crewnecks, which works out to $100.08 in savings. Not bad, right?
However, if you decided to buy in bulk, those savings go way up... for the actual garments. Although you'd be paying $20.34 each vs $12 each, the difference between custom crewneck sweatshirt vs custom hoodie would still be the same $8.34 (reflecting an overall savings of $800.64 by picking custom crewneck sweatshirts instead of going with a hoodie order).
"Okay, but that's print. What about custom embroidered crewneck sweatshirts?"
Custom embroidery works a little differently. First, the cost of embroidery is driven by stitch count instead of print colors, so it can be as colorful as you'd like. However, our prices are based on a stitch-count of up to 5k stitches (in a single location). If a design's stitch count goes above that, the price will increase.
Anyway, for embroidery, the difference between the two is $7.90.
The 18000-E (the code for the embroidered Gildan Heavy Blend™ Crewneck Sweatshirt) is $17.22 each when ordering 12 (or $206.64 overall) or $13.02 each when ordering 96 (or $1,249.92 overall).
As for the 18500-E (the code for the embroidered Gildan Heavy Blend™ Hoodie), it's $25.12 each when ordering 12 (or $301.44 overall) or $20.92 when ordering 96 (or 2,008.32 overall).
Designing custom sweatshirts on a budget
Depending on how you plan on using your custom sweatshirts, you may want to control costs. After all, spending $12 per sweatshirt might work for a giveaway, but would the same be true of a $43 sweatshirt?
Even if that $43 sweatshirt was something like the amazingly nice Sport-Tek Tech Fleece Colorblock Hooded Sweatshirt (seen above, the F246MC is available in 3 colors), it might prove a little cost-prohibitive.
By contrast, Bolt Printing's Best Deal Custom Crewneck Sweatshirt (BDC80, available in 24 colors) is about a third of the price (and the previously-mentioned Gildan's Heavy Blend™ Crewneck Sweatshirt (18000) is around that same price). If you're designing on a budget -- whether for a company holding a giveaway or for a college sorority -- this likely makes more sense.
How to choose the perfect crewneck sweatshirt
So, which custom crewneck sweatshirts are perfect for you? That depends on a few factors. Here are 7 things to consider.
#1 - The power of customizable crewneck sweatshirt brands for your brand (or organization)
One of the first questions you might ask is whether you want to go with a specific brand.
Brands are powerful, often conveying a certain expectation of quality, style, or value. And the nature of these expectations will vary by the brand.
Gildan, for example, is known for its incredible consistency. Because the company is so vertically integrated -- with many of its operations centralized in certain areas -- the business is able to produce apparel with very little variation.
For example, dye lots are traditionally an issue with clothing where one batch might be a shade different from another -- and these variations can occur due to the smallest of things, right down to the pH balance in water. However, because Gildan uses all of the same resources, this isn't an issue for them.
(By the way, Gildan is HUGE -- it also notably owns Comfort Colors, among other brands, and there's a chance you own some of their garments without even realizing it.)
Shown above is Gildan's DryBlend® Crewneck Sweatshirt (12000, available in 7 colors). It's a 50/50 poly/cotton blend that's perfect for either working out or keeping you a bit warm. (If you want something a bit more affordable, be sure to check out their Heavy Blend™ Crewneck Sweatshirt (available in 31 colors).)
Independent Trading Co has a reputation for producing great quality, comfortable apparel. It's a favorite among the Bolt Printing crew and a brand that our CEO absolutely adores.
It's a great choice for when you want something a little more stylish,
Pictured above is Independent Trading Co.'s Midweight Sweatshirt (SS3000, available in 8 colors).
And there are a lot of other brands you might consider more for the name recognition.
Pictured above is Next Level's Unisex Laguna Raglan Crewneck Sweatshirt (N9000, available in 8 colors). It's a really nice design -- very trendy and stylish -- although many people will like the crewneck just because it's a Next Level product. And there's certainly nothing wrong with that. If you're trying to convey a specific brand image for your own company, going this route might make a lot of sense.
#2 - Fabric (a.k.a. the stuff crewneck sweaters are made of)
Most custom sweatshirts use a poly/cotton blend, with a lot of the difference in performance coming from the balance of that blend. Or, in simpler terms, each type of fabric has its own advantages so, depending on how much of each is used, those benefits will vary.
Polyester, for example, is more breathable. Because the fabric wicks moisture from your body, it's great for fitness.
Cotton provides warmth. By choosing a sweatshirt with a higher cotton mix, it's going to be warmer than a blend favoring polyester. However, it won't be as good when it comes to wicking moisture, etc. Think of it as a trade-off.
By the way, hoodies tend to offer more variety in terms of material. Besides the classic poly/cotton blend, you'll see 100% polyester hoodies and polyester/spandex blends -- basically fabrics that help when working out, whereas crewneck sweatshirts aren't used as often for fitness.
"What about tri-blend sweatshirts?"
Although tri-blend options are common in a variety of apparel (especially in the case of custom t-shirts), they aren't seen as often with crewneck sweatshirts.
As for why tri-blend fabrics aren't used more often in custom sweatshirts, you don't gain as much in terms of style or functionality as you would with t-shirts.
#3 - Cozy or super-cozy? The impact of sweatshirt fabric thickness
The thicker the crewneck sweatshirt, the warmer it'll be. However, as mentioned above, certain fabrics are naturally warmer than others so a thicker polyester might not be as warm as a thinner cotton.
Besides that, a thicker fabric can feel softer than a thinner one because of the extra padding. (Although how soft the surface texture feels will depend on a number of factors, including the material and how it was processed. A combed ringspun cotton, for example, is incredibly soft.)
#4 - One style fits all genders? Unisex sweatshirts vs women's styles
Who's going to be wearing the crewneck sweatshirts?
If your custom sweatshirts are going to specific people -- such as if you're ordering for your employees or as a gift -- you might want to go with a ladies style for the women who will receive them.
But how much of a difference does it really make, you ask?
Pop quiz -- is the model seen above wearing a women's crewneck sweatshirt or a unisex sweatshirt?
(You can play some music while you think about the answer.)
(I'll give you a minute.)
(Ready yet?)
(Okay, one more second.)
She's wearing a unisex crewneck sweatshirt -- more specifically, Independent Trading Co.'s Unisex Midweight Pigment-Dyed Crewneck Sweatshirt (PRM3500, available in several colors, although right now some -- like the pigment plum seen above -- need to be specially requested).
Does the sweatshirt look odd on the model? Or even remotely unattractive? Although people sometimes think of unisex clothing as just being men's apparel, the truth is women can look amazing -- sometimes even better than the guys -- in those styles.
So, what's the difference? A women's sweatshirt will be a bit more form-fitting than a standard fit, meaning it's less boxy and geared more to a woman's curves. And it opens things up to some very different styles.
Although not a crewneck, it's hard not to talk about Independent Trading Co.'s Women's Lightweight Crop Hooded Sweatshirt (AFX64CRP, available in a variety of vibrant colors (some currently by special request, such as the tie dye cotton candy seen above)).
This cute crop hoodie has been used to amazing effect with several customer designs.
In short, the crop hoodie is a highly underrated option (although it's a more casual look that won't work for everything).
Summing everything up, although men will usually stick to unisex, ladies have a range of women's clothing options in addition to unisex. And the best choice will likely vary.
#5 - Get a better bang for your buck by smartly mixing colors between your custom design and garment
You don't have to spend a bundle to get an eye-catching custom crewneck sweatshirt (or a hooded sweatshirt, for that matter). Instead, you can choose a strong color contrast.
Going with a white (or other very-light) design on a black (or other dark-color) garment ensures that your message or logo will stand out.
Conversely, having a dark-color design on a light-colored garment will help it stick out. A popular (and very affordable) choice is a black design on a white garment.
#6 - Screen printing vs embroidery
While not specific to the process of choosing the sweatshirt itself, your customization method is still an extremely important question when you're looking to order custom crewneck sweatshirts.
Granted, custom embroidered crewneck sweatshirts vs custom printed crewneck sweatshirts will largely come down to preference, but there are a few things to keep in mind.
Your print costs will be driven by the number of ink colors used. The design itself can be as big as you want it (within reason -- and our skilled graphic design experts will let you know if there's a technical problem with the size) and still cost the same. However, the more colors you use, the higher your price will be.
On the other hand, embroidery costs are determined by your stitch count (and the prices you see on the page are based on a 5k stitch estimate -- if your design uses more stitches, your cost will be higher). This means you can have any number of colors at no additional cost, but the design's size could increase your price. (Always check your proof and our other communications to make sure the price is acceptable. Keep in mind that our design representatives may be able to offer solutions or suggestions if the price winds up being completely outside of your budget.)
So, which is better? That depends on your usage. However, print designs tend to be more popular because they're often cheaper and available at a larger size. The minimum price for a print design (1 ink, 1 location) will always be at least a few dollars cheaper than an embroidered design (5k stitches, 1 location).
#7 - Always keep your audience in mind
Who's going to be wearing the custom crewneck sweatshirts? Your crew of workers? Or your crew of friends?
If the sweatshirts are being given away to complete strangers, you might decide to go with larger unisex sizes (because a size too large is less of a problem than a size too small) and a more affordable option (such as the ever-popular Best Deals Crewneck Sweatshirt (BDC80, our least expensive custom crewneck -- available in 24 colors) or Gildan's Heavy Blend™ Crewneck Sweatshirt (18000, available in 31 colors)). This will allow you to accommodate most people and at a very affordable price (in fact, it's probably a LOT cheaper than you'd assume).
If you keep your eye out for a good deal on custom apparel, you're sure to find Bolt Printing
Bolt Printing offers top-notch quality custom apparel at almost unbeatable prices -- in fact, there are times we've been tempted to change the company name to Best Deal Printing... but that'd be a lot of extra hassle. Besides, our turnaround times make lightning bolts wish they were faster.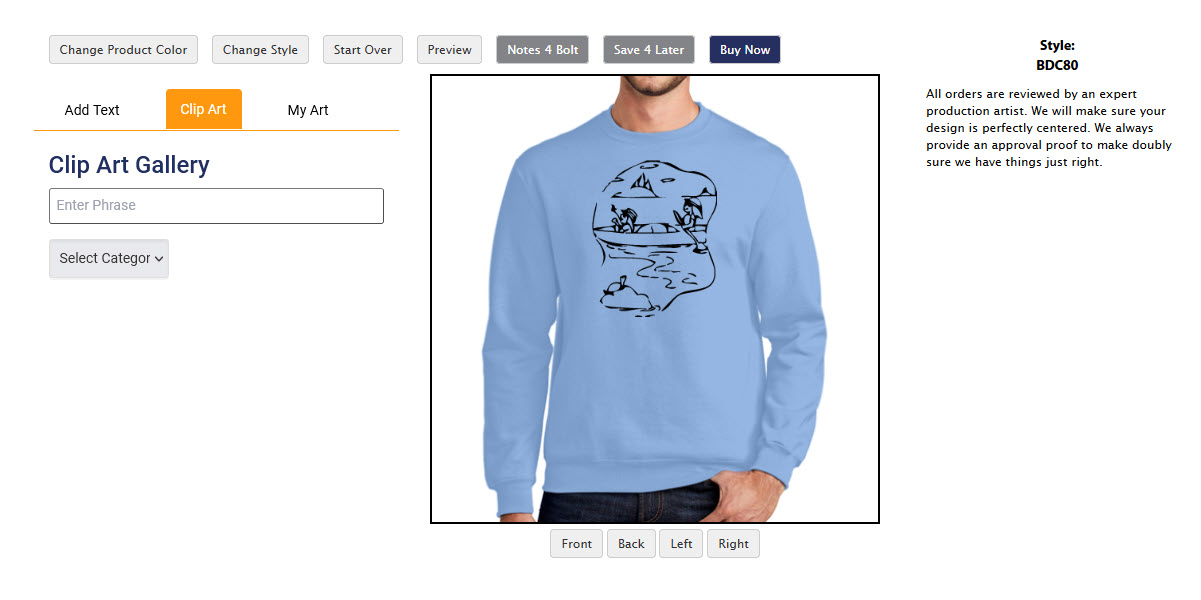 On top of incredible deals and almost-unbelievable turnaround times, Bolt Printing makes buying custom crewneck sweatshirts -- and other custom clothing -- easy.
Simply upload your company logo or other artwork into our design studio, place it where you want, and then leave any necessary comments for our highly-skilled customer service team. Not ready to order today? You can save your design and even share it before placing an order.
Bolt Printing offers the lowest internet prices on quality custom apparel, some of the fastest turnaround times, and unbeatable customer service. Why would you order from anybody else?