How to Pick the Best Custom Sweaters: 5 Pro Tips
Custom apparel comes in all shapes, sizes, and styles... and one of the biggest style questions -- a divisive issue gripping our great nation -- is what's the difference between a custom sweater and a custom sweatshirt?
Custom sweaters vs custom sweatshirts
"What's a sweater? What's a sweatshirt? More importantly, what's the difference?"
While there's a good deal of heated discussion around the subject of sweaters vs sweatshirts, many of these arguments tend to leave people out in the cold.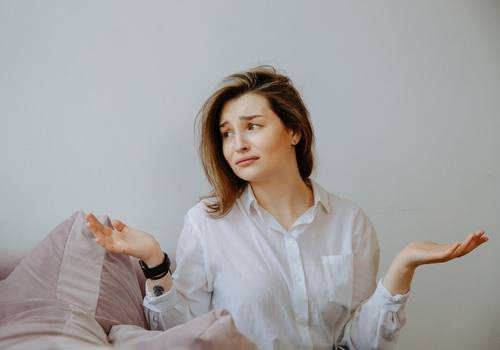 If you've ever googled "What's the difference between a sweater and a sweatshirt?" or -- even worse -- "sweater vs sweatshirt" then you've likely seen a LOT of answers... and probably noticed how few of them seem to agree.
In the most pragmatic sense, sweaters and sweatshirts serve the exact same function -- namely, they're designed to keep you warm. And there's a regional component, too. People on the East coast are more likely to refer to everything (minus hoodies) as sweaters while other parts of the country may refer to everything as sweatshirts.
"But wait, is there a real difference? There's gotta be one, right?"
Short answer? It depends on who you ask.
Long answer? There are dozens of claimed distinctions, most of which don't hold up.
You might've heard that sweaters are warmer than sweatshirts. However, warmth depends on a number of factors -- the material choice, fabric density, style, and other elements.
Maybe you've heard some of the following claims:
"Sweaters have collars, sweatshirts don't!" (And yet there are a lot of things called sweatshirts that have collars -- that comes down to style!)

"Sweatshirts and hoodies are things people wear during workouts, unlike sweaters!" (Not true! Lots of people who wear hoodies don't work out. And at least some tech CEOs wear hoodies as a fashion choice.)

"A sweater is knitted or crocheted." (Probably the biggest of the claimed distinctions yet it winds up excluding things people call sweaters and including things most people might call a sweatshirt.)

"Sweatshirts can have zippers, but a sweater doesn't!" (Humorously, if you believe the knitted/crocheted argument and this argument, you might have a crisis of faith when you notice knitted outerwear with zippers.)

"Okay, but only sweatshirts have a front pouch!" (Although less common, you can find knitted garments with a front pouch... and things you might describe as a sweatshirt without one.)

"Ah! But a sweater can be sleeveless whereas a sweatshirt cannot!" (Which is an absolutely bizarre claim, considering even sleeveless hoodies are a thing.)
In short, if there is a significant difference, it's often just in people's minds... but you can expect a prolonged argument over this "difference" with certain people (which, when dealing with somebody who likes to argue, may be a nice break from politics).
A garment by any other name...
At the end of the day, the important thing is whether the outerwear keeps you warm (ESPECIALLY at the end of the day because it gets cold at night).
So, if you're looking for warm, customized apparel, it doesn't matter what you call it -- just that it gets the job done. (And, for other warm apparel, there's always beanies and jackets!)
The impact of differences in style
Even if we're ultimately talking about the same garment, the style can determine how you're able (or unable) to customize the apparel.
For example, if you have an uneven surface, you won't be able to have a printed design (because screen printing (and digital printing) requires a flat, smooth surface... at least, to produce high-quality products).
However, all you need for embroidery is a thick material (meaning you can have embroidered sweatshirts and embroidered hoodies in any number of styles and using a variety of materials.)
5 Tips for choosing the best custom sweatshirts/sweaters
Picking the perfect garments may sound daunting, but it's not actually that hard. Just think about how you're planning to use your customized apparel and let that guide your decisions.
For example, if you own a gym and want to sell customized hoodies with your business logo on them, you'll likely go with moisture-wicking performance (or athletic) hoodies. If you're planning on using them as a holiday gift for your business, you might want a relatively nice fleece (possibly from a popular brand) or maybe even a french terry.
Here are a few things to consider:
#1 - Will you go with a custom hoodie?
One of the big things separating what people consider a sweater and a sweatshirt is a hoodie.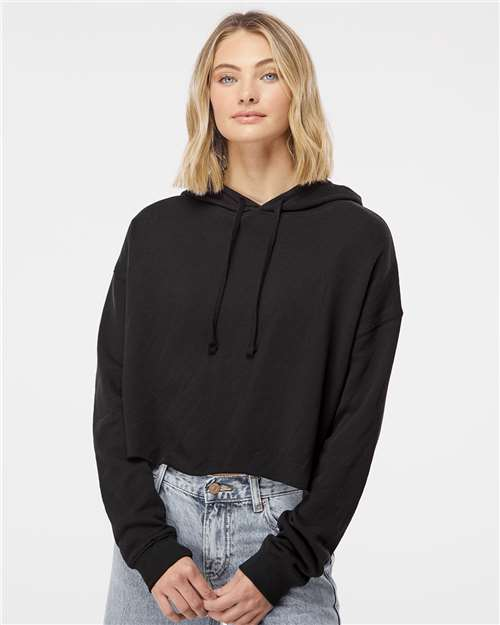 Although a hoodie is extremely practical (providing outerwear and headwear in one stylish piece of apparel), the inclusion of a hood makes a hoodie its own thing.
How much do the best custom hoodies cost? The answer can vary depending on your definition of "best." Because there are so many different options and hoodie styles, each with different advantages, there's no such thing as the perfect hoodie. Instead, your perfect choice will vary based on any number of factors -- is your focus on affordable prices? Are you looking for something soft? Cozy?
When evaluating the price of a hoodie, always remember that a higher-quality hoodie is more likely to be worn -- meaning it's far more likely to be seen. And, considering the amount of use a hoodie might get, you can count on a lot of people seeing it.
(Pictured above is the Independent Trading Co. Women's Lightweight Crop Hooded Pullover Sweatshirt (AFX64CRP, available in 3 colors). Like most Independent Trading Co. apparel, it's extremely soft (almost unbelievably soft) and has a neat, stylish, designer look.)
+Zip-up hoodies
Zippers are convenient. Not only are zip-ups easier to put on or take off than a pullover, they offer an extra option -- keeping the hoodie unzipped -- if you just need to feel a little warmer, but don't want to be too hot. (After all, how many times have you seen somebody put on and take off a pullover when struggling to find that right temperature?)
However, there are are two disadvantages to full-zip hoodies. First, it adds to the cost. Second, a zipper breaks up your design space -- instead of being able to run a large logo on the front, you'd have to settle for a smaller left-chest logo (although you could do something larger on the back).
Pictured above is the Gildan Heavy Blend Full-Zip Hooded Sweatshirt (18600, available in 17 colors -- and also available for embroidery). It's a super-popular, affordable custom hoodie.
+Pullover hoodies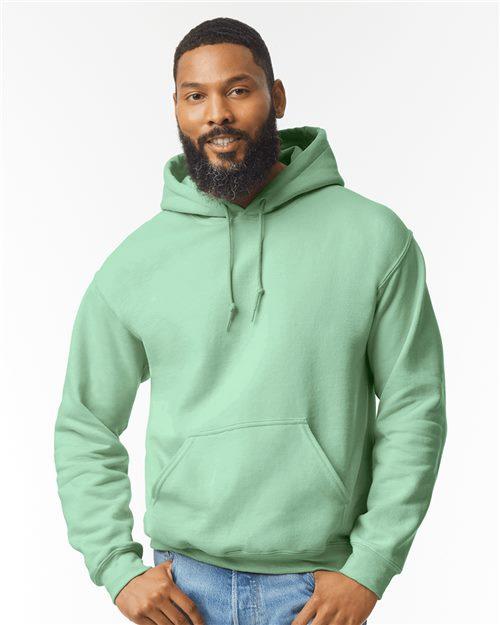 The other option is a pullover hoodie, which is the more "classic" (or traditional) design. Pullovers tend to be cheaper than zip-ups because they lack a zipper. In the case of the Gildan Heavy Blend Hooded Sweatshirt (18500, available in over 30 colors, for either printing or embroidery), it's about $5 cheaper than its comparable zippered counterpart (the previously-mentioned 18600). So, if you're looking to save a few dollars, you can always ask whether you really need that zipper.
While the zipper is a premium, your team members and/or customers will usually be more likely to wear those custom hoodies. However, if it's being used as part of a mandatory work uniform, that might be less of a consideration.
+Crewneck sweatshirts
Although hoodies were the big, cool thing for a long time, crewneck sweatshirts have been gaining popularity in recent years.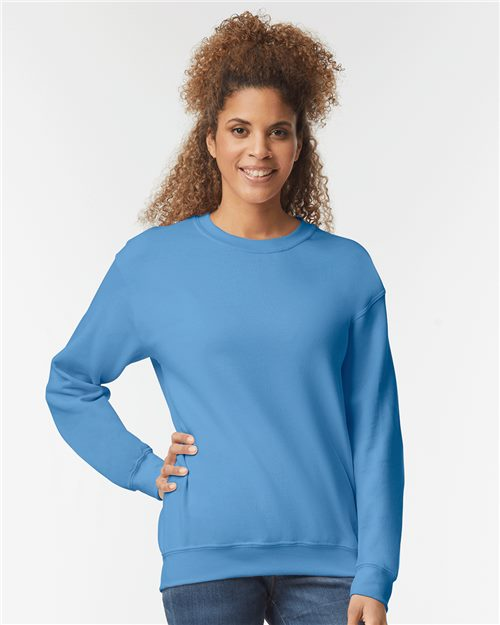 The crisp, simple design of crewnecks offers a neat visual appeal, but -- on top of that -- a crewneck sweatshirt is functional, too. Thanks to the collar, crewnecks are better at trapping warmth than hoodies. And, unlike a hoodie, there's no hood to get in the way when wearing a hooded jacket (such as Sport-Tek's Hooded Raglan Jacket (JST73, available in 7 colors)).
Pictured above is the bestselling Gildan Heavy Blend crewneck sweatshirt (18000, available for either screen print or embroidery, with over thirty colors to choose from). It's a 50/50 cotton/polyester blend good for both warmth and athletic performance (since it has moisture-wicking properties).
#2 - Fabric choice
Many custom sweatshirts and custom hoodies feature high-quality materials, and the nature of those materials can have a direct impact on how the garment performs. Notably, fabrics like cotton provide warmth while polyester gives you breathability and moisture-wicking properties. So, in the case of a blend, the composition (or amount of each material) will directly affect the performance.
More cotton? Your custom hoodie will be warmer. Less cotton? It's going to be a bit cooler.
#3 - Fabric thickness
Your fabric weight (or density) will change the look and feel of a garment. Just like with shirts, a thinner fabric can be more stylish (although nowadays oversized, bulky hoodies can be a popular choice, too). However, a thinner hoodie is going to be far less warm.
#4 - Garment color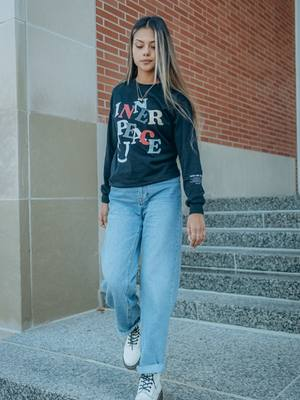 More than just a style choice, color can matter a LOT when it comes to your design. After all, different colors interact with each other in different ways. In the example above, there's a mix of lighter-color letters on a darker-color crewneck sweatshirt. Not only does the darker color help the letters pop (without overpowering them), the color complements the letters extremely well. Another dark shade probably wouldn't do them justice.
(By the way, we have a whole color theory guide.)
In many cases, garment color can be a low-cost way of making your custom hoodies and other apparel more noticeable. Rather than go for an print design with a lot of colors (or that uses some kind of custom ink), you can pick a color that stands out -- for example, red or yellow is going to be more eye-catching than black.
+Going for a strong contrast
However, if your black custom hoodies have a white or bright-yellow design, people are far more likely to notice your design. In the example above, the white ink starkly contrasts the black custom hoodie. It's an excellent case-in-point showing much ink colors (and garment colors) matter.
+Choosing a very mild contrast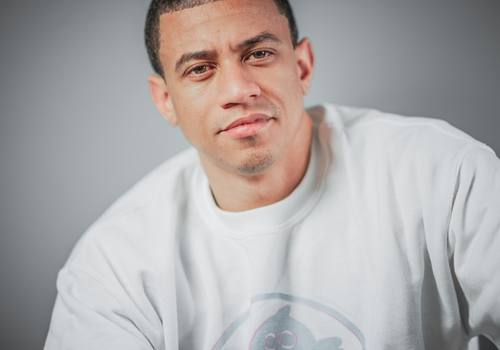 On the other hand, if you want your design to be a little more subtle, you can opt for similar light or dark colors. The design on the crewneck sweatshirt above blends nicely against the garment.
+Tie-Dye?!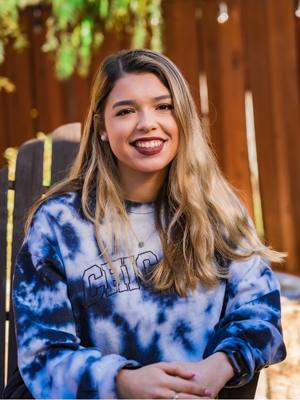 If you want something a bit more colorful, you can always look into tie-dyed sweatshirts and custom hoodies. However, you need to be careful with tie-dyes since they can overpower a design. In the example above, the letters are hard to read in places. (This is why you need to carefully consider your fonts and colors when you create custom clothing!)
++Why you only want to screen print with a tie-dye hoodie
While embroidery is an option with most hoodies, it's not suggested with tie-dye hoodies given that embroidered designs tend to be small and are therefore more likely to get lost when you have a vibrant garment design.
Pictured above is the Port & Company Tie-Dye Pullover Hooded Sweatshirt (PC146). The dazzling design on the right is the neon rainbow (which, like many custom hoodies, has an adult and a kids-sized version) while the pattern on the left is available in multiple colorways. Either way, it's a very fun hoodie design -- and perfect if you're ordering hoodies for a family reunion.
#5 - The design itself
Your custom sweatshirt or custom hoodie design will influence a lot of your decisions -- for example, the design can greatly impact cost if your custom-printed hoodies feature a lot of colors.
+Embroidery vs screen printing
One of your big design decisions will be whether to go with an embroidered or custom-printed design.
While embroidery or printing largely comes down to a matter of preference, people can feel surprisingly strongly about it.
A nicely embroidered logo, for instance, offers a very clean, professional look. (No pun intended.) As a result, the company logo on this custom hoodie looks extremely classy.
However, that isn't to say you can't have a tasteful left-chest design with a screen print. The company logo for Romeo Painting (seen above) looks great, too. Of course, there's an advantage to screen printing as well...
+Screen printing can give you a much larger design
The big limitation with embroidery is that the expense is determined by stitch count... and huge designs have huge stitch counts. However, the cost for screen printing is determined by the number of colors used (rather than size), so you can have a massive design on your custom hoodie.
A popular design choice is to go with a small version of a company logo at the left-chest and then a much-larger logo -- sometimes with extra information -- on the back.
Start designing your own custom hoodies, sweatshirts, or anything else today
Whether you're looking to make your own hoodie or any other piece of outerwear, we have you covered.
Bolt Printing carries a wide selection of sweatshirts, hoodies, and so much more, with something for just about everybody.
Creating custom hoodies doesn't have to be hard
Our online design studio makes it to easy to create custom clothing. Simply upload your artwork, add whatever text you need, and leave notes for our talented customer experience team. Don't have artwork? No problem! You can pick something from our stacked selection of clipart.
We offer volume discounts, free shipping, and more -- so what are you waiting for?