Choosing The Best Hoodies for Embroidery: 6 Expert Tips
While you can print on a hoodie, sometimes you want something a little fancier -- sometimes you want to... embroider a hoodie!
Why embroider a hoodie?
Why wouldn't you embroider a hoodie? Embroidered hoodies are awesome!
All kidding aside, printing and embroidery each have their advantages, disadvantages, and benefits. And while a hoodie with a nice, smooth screen print will look amazing, an embroidered hoodie can look every bit as good.
For the most part, it's going to come down to a mix of personal preference and usage. An embroidered logo design is going to look more formal on a hoodie, which is helpful if you plan on using hoodies as a work uniform. (A great case-in-point might be parking lot attendants -- who would you trust more to leave your car keys with, an employee with an embroidered company logo on their hoodie or a printed one?)
Beyond that, embroidery over print will often come down to a person's recognition of how incredible an embroidered hoodie looks. (And a lot of embroidered hoodies are amazing.)
Print vs embroidery on hoodies
The big advantage of print is... well, it can be big. Like really big.
Screen printing doesn't have the same limitations as embroidery. If you want a huge design, you can have a huge design. The price doesn't even change because the cost for printing is driven by the number of colors in your design. (Although great custom printed hoodies don't need some crazy print color combination -- in fact, you can often get a cooler effect by printing contrasting colors, such as a white design on a black hoodie.)
The cost of embroidery, on the other hand, is driven by stitch count (ie, the amount of thread used in an embroidery design). So although you can use as many colors as you want (at no added cost), you tend to be limited when it comes to size.
Although it seems like a restriction, there's a benefit to smaller designs. First, they look a bit cleaner and more professional. And some designs look better small. (However, if a small design has a lot of detail, you're usually better off screen printing instead.)
"Okay, you've convinced me -- I'm interested in embroidering a hoodie. But would I still print the tags?"
Here at Bolt Printing, we'll occasionally get asked whether we print custom size tags or even questions about printing private label tags. However, it's not a service we offer.
While some resellers like to have custom tags on their hoodies, the demand hasn't been high enough for us to justify offering the service -- sorry!
What makes a hoodie great for embroidery?
Unlike t-shirts where a thin material might be hard to embroider, any good-quality hoodie will work for embroidery. After all, hoodies naturally tend to use thick fabrics that can support embroidery, even designs with a high-stitch density.
Will some blank hoodies work better than others? Nope! Which means your biggest concern is picking something the recipients will like.
6 Tips for choosing the best custom hoodies for your embroidered design
What separates a great-quality hoodie from a more basic, good-quality hoodie? The answer may vary depending on how you're planning to use it.
Although there are certainly differences in quality between hoodies, ultimately a lot of it will come down to a hoodie's purpose. Or, in other words, it's not so much that there's a perfect hoodie but instead hoodies that are better at doing certain things.
A stylish hoodie, for example, will often use a thinner material and feature a trimmer cut -- and might even sport an unconventional design. As a result, it's not as warm.
(And, of course, if you're giving hoodies away, what you might consider the "best" option might simply be the most economical hoodie.)
#1 - Material
The very first thing you might consider is the fabric choice. Will you go with a 80/20 cotton-polyester hoodie? Or maybe a 50/50 cotton-polyester blend hoodie?
A Gildan DryBlend® Hooded Sweatshirt (like 12500-E seen above, a 50/50 cotton-poly hoodie available in 12 colors), for example, uses a moisture-wicking fabric. This helps the wearer stay warm during a workout without getting too hot.
Why does this make a difference? Because a workout hoodie will differ from one you're simply using to stay warm.
For instance, while it's important that your favorite gym hoodie is breathable -- so you don't get too hot -- that's not a concern when you're just trying to stave off the cold. In fact, odds are it'll do a worse job of keeping you warm than many other pullover hoodies (especially if it uses a lightweight material).
However, if you're looking for warmth, you'll usually want a higher cotton count. An 80/20 cotton-poly hoodie will feel warmer (and bulkier) than a 50/50 cotton-poly even if the garment weight is the same.
In short, the material you choose can have a pretty direct impact on every other aspect of your custom hoodie.
#2 - Thickness
A thick hoodie tends to be a warm hoodie.
There are a LOT of people who love a warm and thick hoodie -- in fact, if a hoodie doesn't meet those criteria, some won't even wear it.
Depending on the time of year and how cold it gets in the region, the amount of warmth somebody might need will vary. A Connecticut winter, for example, is a lot warmer than a Minnesota or Montana winter. And then compare that to a much warmer winter in Georgia or a much colder winter in Alaska.
During extremely cold days and super-cool nights, a super-thick sweater is great. However, that same hoodie might be too warm the rest of the time.
3 - Comfort
Many people's second-biggest concern (after warmth) is that a hoodie wears comfortably. And although comfort can vary person-to-person, most people tend to find a baggier design more comfortable. (And, if you're just giving them away, going a size too large is usually safer than a size too small!)
However, if you know a lot about the intended recipients, you may be able to cater to their preferences.
This is another area where a thicker hoodie shines, since the added thickness provides a certain amount of cushioning. In fact, some people will say a thick, super-soft hoodie is like wearing a blanket.
#4 - Fashion
At the opposite end of the spectrum is fashion. Style and comfort don't always go hand-in-hand; in fact, many of the things that make a hoodie comfortable may make it less fashionable.
A loose-fitting hoodie may be comfy, but it's also bulky. In the example above, you likely can't get much of a sense for the model's body type. While it's probably very comfortable, most people wouldn't describe the hoodie as fashionable.
By contrast, stylish hoodies tend to use thinner (if not sheer) fabric and have a trimmer design, highlighting more of the wearer's body. This gives the apparel a very clean, tailored look.
Depending on the nature of why you're buying hoodies, this can be a huge deal. If you're promoting a trendier product or service, a fashionable hoodie might be the best choice -- or possibly even the only feasible choice.
#5 - Brand
Do you have a preferred company when it comes to hoodies? Or do you buy whatever looks or feels nice at that moment?
Many customers have a tremendous preference towards certain brands -- whether they like a certain company's product for a very specific reason or just as a matter of brand loyalty.
In some cases, these customers like what they like and won't bother with anything else. However, the majority of people don't feel quite that strongly.
If you're selling your custom hoodies as part of a fundraiser, for a local sports team, or something related to a business, going with a better-recognized brand can be an easy way to justify charging a bit more. However, if you're giving your hoodies away (or providing them to employees), it's going to be less important.
(Featured above is Champion's Powerblend pullover hoodie (S700, available in 7 colors (Note: The listing is for the screen print version, but we're able to embroider it as well upon request)). Champion is a recognized brand and -- like Adidas and Nike -- their custom apparel features their logo. In this case, Champion's blank hoodie has their logo on the sleeve.)
Two of the most notable brands are Gildan and Sport-Tek.
Gildan's major benefit is value -- the company produces highly-consistent, quality apparel at very reasonable prices. As a result, they're a leader in producing blank apparel.
Sport-Tek, on the other hand, is often the go-to option when it comes to moisture-wicking athletic apparel. If your custom hoodies are being used for a sport, you'll often want to go with something from Sport-Tek.
#6 - Warmth can come down to multiple factors
While most people tend to associate a hoodie's thickness with warmth, the fabric matters, too.
A Gildan heavy cotton blend -- like the 18500 (available as a unisex or the kids version (seen above), with a choice of 34 colors) -- tends to keep people warm because it uses a high-quality fabric. The 18500 uses a 50/50 cotton/polyester blend, giving it both warmth AND breathability (to keep it from getting too warm. In short, it's surprisingly versatile (and sure to leave an amazed look on its wearer's face).
Things to keep in mind with an embroidered hoodie design
As mentioned, printing and embroidery are very different beasts. While print designs can go huge, embroidery tends to stay sensible.
-Simple designs work best
How much thought have you put into your organization's brand and logo design? A logo identifies your organization -- be it a company, charity, or even a band -- at a glance, which arguably makes it the most visible part of your branding.
Effective logos are usually pretty simple -- think of the Nike Swoosh, Disney's Mickey Mouse silhouette, and so on. Not only does the simplicity ensure these logos are easily recognized, but they can also be easily placed on apparel (or any other product for your promotional and marketing use).
In the example above, we were asked to embroider a complicated logo with a lot of detail. While it turned out good -- considering the the size -- some of the text wound up being a little fuzzy.
Embroidery can struggle with small, fine detail. And, I should mention, so will the human eye. If somebody saw this logo at a distance, how much would they be able to make out?
Compare that to this handsome logo -- it also looks good, but it has the added benefit of being simple enough to see from a distance. However, there's an issue here, too -- the Bolt Printing logo is using an orange lightning bolt on a yellow background. Because there isn't a strong color contrast, the image might blend together at a distance.
When creating a design, you should always consider the amount of detail and the color use.
-More stitches, more money
The cost of embroidery is determined by stitch count, meaning large, full designs are going to cost a lot more -- and that expense can really add up.
To avoid a serious case of sticker shock, you'll want to stick with a reasonable-sized design. However, if you followed some of the previous guidelines, even a smaller design will turn out fantastic.
Embroider a hoodie today (or save your design for tomorrow)
If your hoodie embroidery enthusiasm has hit its apex, you might want to run out right now so you can start embroidering your own.
If so, AWESOME! Bolt Printing would love to help you on your embroidered hoodie journey.
Our online design studio makes it easy to embroider hoodies, beanies, hats, polos, and even those boring, non-hooded sweatshirts. Just pick your favorite blank hoodie, upload your artwork, and place your design.
Don't have artwork? No problem! Our online design tool has an extensive clip art library or, if you'd prefer, you could go with a text-only design.
And you don't need to be perfect. Our team of experts will review your design, make any necessary changes (and if you need something changed, let us know in the comments), and send you a proof. From there, if you think it looks great, we'll go ahead. If you don't, we'll make adjustments until you're satisfied.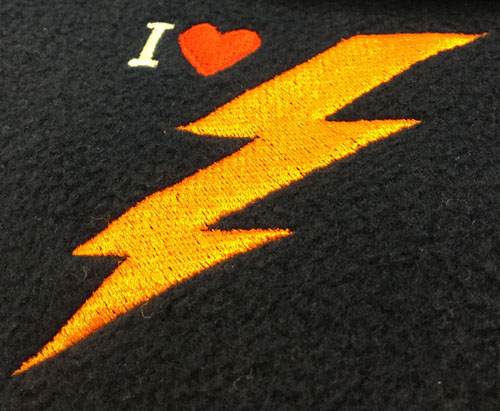 When you order from Bolt Printing, you're not buying from some nameless, faceless corporation that will slap your design on apparel without any regard for how it looks. Instead, you're putting your custom apparel in trusted hands of experts who care about the finished product and will work with you to make that clothing as amazing as possible. (It's like having a free graphic design department.)
Bolt Printing knows a thing or two (or fifty or a hundred) about embroidering hoodies
Here at Bolt Printing, our team of experts have been turning customers' embroidery dreams into embroidery reality for over a decade.
We adhere to strict quality guidelines, making sure that your hoodies are top-notch. If the end result isn't something we'd be proud to show on our social media profiles, we'd rather it not go out.
And, on top of all that, we offer lightning-fast turnarounds and very competitive pricing (in fact, we're often a LOT less expensive than even big-name custom apparel makers).
How do we do it?
For starters, Bolt Printing is not a middleman.
We do all of our customization on-site at our spacious headquarters in scenic Brookfield, CT where the sun never sets (except at night).
What does this mean for you?
For starters, fewer hands means there are fewer places for something to go wrong. When you're ordering from a middleman, they have to convey those instructions to the company actually doing the customization -- that adds opportunities for miscommunication (and additional expenses since you're paying a company who then pays a company to do the work).
However, when you order directly from a company that handles its own customization -- like Bolt Printing -- there are far fewer people involved in the process and thus fewer chances for errors.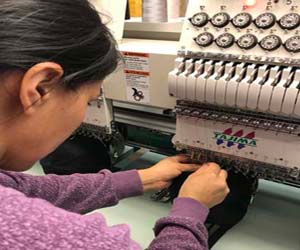 When you call our office, you're able to talk directly to the expert who will be readying your design for embroidery. They're able to walk right into the production facility to speak with the skilled embroiderer who will be putting your design on a hoodie. If there are any questions, they can talk to each other. If one of them notices an issue, they can bring it to the other's attention.
In short, Bolt Printing cares about your design. We want you to be happy with your embroidered hoodies and we always go the extra mile.
Bolt offers great prices, superior service, and astounding turnaround times. Why would you want to work with anybody else?