How to Choose the Best Custom T-Shirts: 8 Expert Tips
When trying to get the most bang for your buck from custom apparel, few things deliver like t-shirts. Custom tees are great because they're low-cost, give you a large design space, and are something that most people will wear... although not everybody does.
The reality is that while some t-shirts wind up being worn until they're practically falling apart, others wind up at the bottom of a drawer or back of a closet, never to be seen again until spring cleaning sends them on a trip to the local Goodwill or Savers.
How can your custom t-shirts avoid that fate? More than just having a great design, you need to think about the kind of shirts people will like wearing.
Not all t-shirts are created equal
There's a natural temptation to think of t-shirts as a commodity -- especially since entry-level shirts (your plain whites) are often sold almost exclusively on the basis of price. However, shirts aren't always quite that simple.
Just like there's no one-size-fits-all shirt, there's no-design-fits-all-purposes shirt. You have fashionable t-shirts, you have performance shirts, cost-effective shirts for giveaways, and everything else. Then not only do you have men's/unisex shirts, but you also have ladies shirts. And don't forget kids' shirts!
In short, a shirt is not a shirt is not a shirt -- there are a LOT of varieties, with some better for certain things than others.
Overwhelmed yet? Don't worry -- we'll go over everything one at a time, with a few recommendations along the way.
What makes for a great custom t-shirt?
Because t-shirts can be used for so many different functions, you won't ever have just one best custom t-shirt. Instead, you may have the best custom tee for a specific function and then another for a different usage.
For example, a great athletic t-shirt might be 100% polyester. However, if you wanted to use your custom t-shirts as employee uniforms, you might instead go for a 50/50 polyester/cotton blend (since the care is easier). But if you were just giving away shirts to promote your business, you'd likely choose a 100% cotton because it's the cheapest option.
So while that 100% polyester shirt might be amazing for a sports team, it'd be a terrible choice for a giveaway given the added cost. Therefore, the first thing that needs to be considered is why you you're looking to order custom shirts.
Reasons for getting custom t-shirts
There are at least as many reasons to create print t-shirts as there are apparel styles for those shirts. And while there's a certain amount of overlap (both in the occasion and sometimes the recommendation), it's worth highlighting a few of the more notable reasons while showing off some custom t-shirt designs that absolutely hit it out of the park (which may help to inspire some of your own t-shirt design ideas).
Promoting a business or charity
When promoting a business or charity, you want a custom t-shirt that'll instantly grab people's attention while delivering its message. One of the easiest ways to do this is to pick a t-shirt design with a color that strongly contrasts the garment.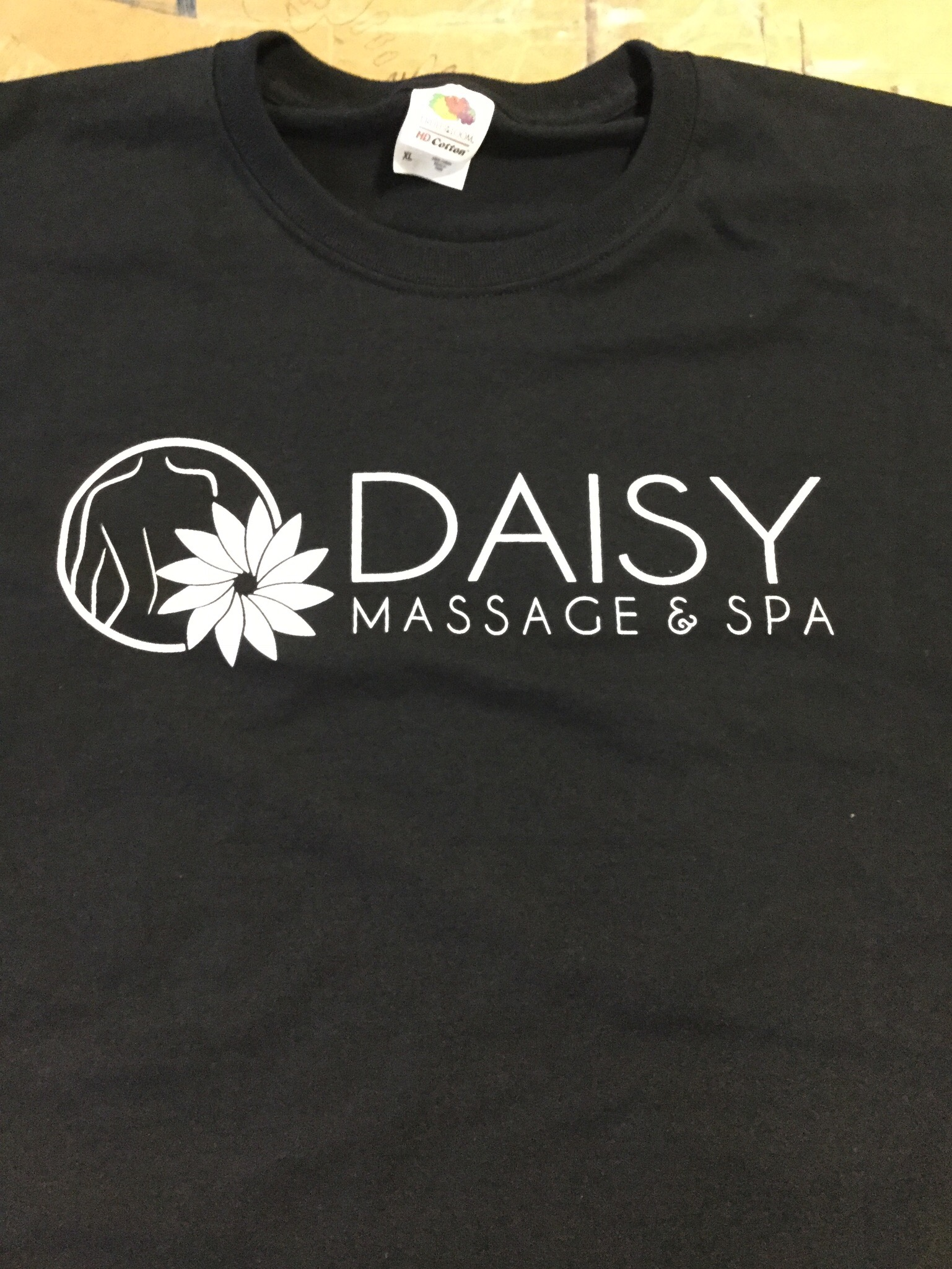 In the example above, you have a simple white logo on a black t-shirt. The result? A super-strong contrast that absolutely pops, allowing people to easily read the design.
If you're giving away custom t-shirts, you probably have a budget. One the best choices -- since it's the least likely to break the bank -- is a Gildan 5000 (available in an astounding 67 colors). Of course, if you want to save a little more, you could also check out Bolt Printing's BD54 (available in 51 colors).
(As an added side-note, a white t-shirt will almost always be the cheapest option, so if you're looking to save a bit more, you'll want to go with that.)
However, the cheapest option won't always be the best choice. If you want to increase the chances of a shirt being worn, you may opt for something a bit nicer. For instance, a ringspun cotton is softer than its regular counterparts and, although it's more expensive, the added cost might be more than justified if it makes the difference between whether or not somebody wears your shirt.
Events
Similar to promoting a business or charity, a shirt promoting or announcing an event needs to grab people's attention quickly and convey a piece of information. (In many cases, that might include a date and location.)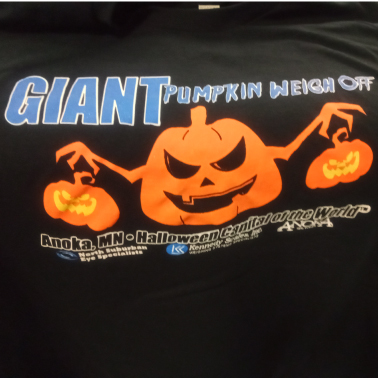 The gorgeous screen-print above -- which we absolutely adore -- celebrates Anoka's annual giant pumpkin weigh-off.
Never heard of Anoka, Minnesota? It's a city that's BIG into Halloween -- in fact, it prides itself on being "The Halloween Capital of the World" and hosted one of America's first Halloween parades (all the way back in 1920!).
Depending on the event, you might either sell your custom t-shirts (especially at the venue) or give them away ahead of time. And whether you're selling the shirts or giving them away will probably affect the shirts you buy. (For instance, if you're selling t-shirts, you could go with something a bit nicer then pass that added cost along to customers. However, if the shirts are being given away, you're more likely to look for ways to cut costs.)
The example above used a Gildan 5000 t-shirt.
Family reunions, birthdays, and other special occasions
For families with a lot of relatives, reunions can be a huge deal -- and also birthday milestones, baby showers, bachelorette parties, and so much more.
Custom apparel is an amazing way to commemorate a family reunion. Think of it like a group photo you can share with the world -- every time you wear a shirt with your event's custom design, not only are you reminding yourself of an awesome time you had, you're broadcasting it to everybody else, too.
For milestone birthdays, a custom t-shirt can celebrate the occasion long after the party ends. It's also an incredible way to let somebody know how much they mean to the people in their lives.
The example above keeps things pretty simple -- it involved screen printing a white dye custom t-shirt design on a black garment -- yet it's visually stunning. The graphic designer (or whoever handled the artwork) did some amazing work.
As with the previous occasions, a Gildan 5000 is a fantastic choice.
But which shirts did the customers from those examples pick? Both chose a BD54.
Bands and entertainers
Custom t-shirts promoting entertainment are a bit different than the previous uses since, besides being a great method for getting attention, the shirts can also be a money-maker.
If you're selling shirts, you're usually going to choose higher-quality custom t-shirts, such as a ring-spun cotton (which is softer than a normal 100% cotton). Although it costs slightly more, the higher quality both helps to justify the shirt's price AND makes fans more likely to love the shirt. (After all, comfort is still a factor.)
One option might be the Gildan 64000, which is a ring-spun 100% cotton tee available in 40 colors. As for the t-shirt design seen above, it was placed on a Bella+Canvas 3501, which is a 100% combed and ring-spun cotton long-sleeve shirt available in 23 colors.
(By the way, if you're curious about Solar Circuit's music, be sure to check out their Youtube channel.)
Work uniforms
Unlike the options seen so far, you'll probably want to go with a 50/50 poly/cotton blend when you're using a custom t-shirt as a work uniform. (Although a lot of small business owners tend to go with polos instead of t-shirts, that tends to be more the case with indoor jobs. Outdoor workers -- such as landscapers -- are more likely to use a t-shirt. Some bars and restaurants also favor a t-shirt.)
For t-shirt uniforms, it's customary to go with the company name and/or logo at the left-chest on the front of a shirt and then a larger image -- often the logo, sometimes with a message or information underneath -- on the back.
However, if you only want to customize one side, you'll likely choose a larger design on the front.
The example above is simple -- a black dye (with a spot of red) on a safety green shirt (in this case, a Gildan 5000). Not only is the shirt likely to catch a bystander's eye, but the simple message stands out against the shirt.
However, you're only looking at the back of the shirt. There's also a left-chest logo on the front (just the company's name) and an American flag on the sleeve, too.
While you can use a 100% cotton (like the Gildan 5000 or BD54) as a work uniform, many small business owners prefer a 50/50 cotton-poly blend because the care instructions are easier, it's stain-resistant, and more breathable (which is a help when your employees keep active).
Some of the most popular 50/50 options for t-shirt uniforms include the BD55 (available in 28 colors) and the Gildan 8000 (available in 33 colors).
School functions
Whether for a school play or a marching band, custom t-shirts are a great way to show spirit.
Depending on the school, you may choose to go fancy or budget-friendly. The BD54 and Gildan 5000 are certainly options if the school board is tightening the purse-strings. However, if you have generous donors or run a private school, you could go with something else.
And, if you're selling the apparel instead of giving it away, you can pass along the added cost to parents, who might prefer a nicer option (like a ringspun cotton shirt) for their kids.
Sports, workouts, and other athletic activities
When it comes to the more athletic side of things, you'll probably want to go with a 100% polyester t-shirt.
Performance shirts help to regulate body temperature by wicking moisture and being more breathable. Some also offer UV protection, which is useful since most sports are played outdoors.
One of the most popular options is Sport-Tek's ST350 (available in 32 colors), although anything from the Sport-Tek line will perform great. (Seen above is the ST360, available in 12 colors.)
Team-building and retreats
One final -- but not nearly the last -- possible use for custom t-shirts is for team-building and retreats.
When trying to help a group bond, wearing clothing with the same message can break down barriers by rather literally showing everybody is on the same side. Whether a company outing, religious retreat, men's group, or anything else, pre-designed tees are a great choice.
8 Tips to consider when choosing the best custom tees
Now that you've seen the range of purposes served by custom shirts, you might want to narrow things down. Here are 8 considerations when choosing a custom t-shirt.
#1 - Cost
Looking for a good deal? When it comes to custom apparel, price is often the first thing on people's minds. If this is your highest priority, you'll probably want to either stick with something from our best deals category or go with a Gildan 5000. These tend to be top-sellers because they're budget-friendly.
The incredibly awesome design seen above is on a BD54, which is our most affordable t-shirt.
#2 - Style
If cost isn't your biggest concern, you may want to go with something a bit more fashionable. Bella+Canvas, for example, is a trendier brand.
The Bella+Canvas 3413 (seen above) is a tri-blend available in 44 colors. It features a trimmer cut, meaning it's more likely to be form-flattering.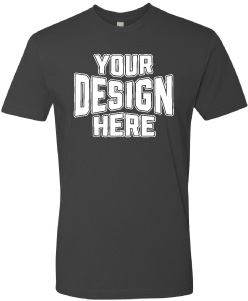 Next Level is another fashionable brand. One of its more popular offerings is the 3600 (seen above), which comes in 35 different colors. Again, it's a trimmer fit (meaning it's less boxy) and stacks up very nicely against Bella+Canvas shirts (the 3600 is seen as being comparable to B+C's popular 3001).
Both shirts use ringspun cotton, meaning they're softer than average.
#3 - Collar type
While crew-collar tees tend to be the most common choice for custom t-shirts, you also have the option of a v-neck.
Port Authority's relaxed-fit v-neck t-shirt (PC54V, seen above) is a popular choice and is available in 10 colors. The company is known for creating quality, affordable clothing.
Another option is the Gildan 64V00. Available in 6 colors, you get the incredible consistency associated with the Gildan brand in a very-popular v-neck.
#4 - Unisex or gendered?
Although there's no one-size-fits-all-shirt, there are unisex shirts (sometimes called men's shirts). The obvious benefit of going with a unisex-style shirt is you don't have to worry about not having the right kind of shirt for everybody (since most men aren't comfortable wearing women's clothing).
However, if all of the shirts are being given to women -- or if you're ordering for people with specific requests -- ladies shirts might be the better option.
Three of Gildan's best-selling custom ladies t-shirts are the Ultra-Cotton tee (2000; available in unisex, ladies, and kids versions, with a whopping 60 colors), the 5000L (seen above, available in 18 colors), and the soft-styled junior fit (64000L, available in 13 colors).
By the way, if you're planning on ordering both men's and women's tees, it can be easier to order a shirt that's available in both varieties (like the 2000).
Looking for something a little more stylish? The Bella+Canvas 6004 (available in 13 colors) is a ring-spun cotton, junior-cut ladies t-shirt with an attractive cut.
Just keep in mind to ALWAYS CHECK THE SIZING CHART when ordering women's apparel, especially since some are a juniors fit and custom clothing can run smaller than normal retail (or, in the case of some shirts' ladies extra-small, a lot smaller).
For advice about ordering women's shirts, be sure to check out our full guide.
#5 - Brand
Many customers make a big deal about brands. There are even some who refuse to wear anything other than clothing from their favorite apparel company. So, when you ask, "Do brands REALLY matter?", the answer is they can mean a lot to some people.
When it comes to sports apparel, brands like Nike and Adidas are great choices -- especially since professional teams use them. (Nike has been the exclusive provider for the NFL since 2012 while Adidas jerseys are worn by many soccer teams.)
Pictured above is Nike's Dri-Fit Tee (NKBQ5231, available in 9 colors). It's a moisture-wicking performance t-shirt with Nike branding right on the sleeve.
By the way, it's worth noting that some companies -- like Nike and Adidas -- will have their logo as part of their custom t-shirt design. This can be a huge benefit if you're buying shirts as team uniforms since they'll feel more like professional sports apparel. However, it may limit how you're able to customize your own t-shirt.
#6 - Fabric
Depending on the type of fabric used, a t-shirt may perform better or worse under certain conditions.
Your choices range from 100% cotton to 100% polyester.
Cotton -- often called "The Fabric of our Lives" -- is a great all-purpose material. Its benefits include being cost effective (since the cotton industry is so massive, competition keeps prices low), comfort, and warmth.
Polyester, on the other hand, is a synthetic fabric. Its benefits include moisture-wicking properties, breathability, and a reduced chance of shrinking. 100% polyester clothing tends to excel when it comes to athletic pursuits. It's perfect for sports uniforms and workout gear.
(Pictured above is Sport-Tek's ST350, a 100% polyester performance t-shirt available in 32 colors).
#7 - Sleeves
Although people tend to default to thinking about short sleeves when it comes to t-shirts, you can also get a long-sleeved t-shirt.
The advantage of a long-sleeved t-shirt is added warmth, which makes sense for certain times of the year and certain parts of the country.
The downsides are it's a bit more expensive and not everybody likes long sleeves.
Seen above is Gildan's Ultra-Cotton long-sleeved t-shirt (2400, available in 28 colors).
#8 - Pockets?!
Do you need pockets? Some people love pockets while others don't notice them. However, depending on the industry, they can be helpful when a t-shirt is being used as a uniform.
Pictured above is the Hanes pocket Beefy-T. Available in 9 colors, it's also a heavier-weight t-shirt -- meaning it has a sturdier feel.
Custom t-shirt selection cheat sheet
To make the selection process as simple as possible, here's a very quick breakdown:
Giveaway? Stick with a 100% cotton t-shirt, either a Gildan 5000 or our BD54.
Work uniform? Either a 50/50 blend (like the BD55) or a 100% cotton (like the Gildan 5000).
Sports team uniform? Go with a 100% polyester t-shirt, like the ST350.
Most purposes? You generally can't go wrong with a Gildan 5000. It's probably the most popular custom t-shirt option.
Bolt Printing makes t-shirt design easy
Don't feel like going overboard designing your own t-shirts? Our library of customizable pre-designed templates makes it easy to create custom apparel.
Or you could use our online design studio to bring your favorite designs to life, either by uploading artwork or using something from our extensive clip art gallery. And, with our team of experts to review your design, you're sure to get a final product you love.
Above everything else, our online design tool makes the ordering process simple. But, if you're not ready to buy today, you can save your custom designs for later -- and you can even share them.
When you shop with Bolt Printing, you can shop with confidence. Our site includes reviews from lots of satisfied customers who -- just like you -- wanted high-quality apparel and may have been in a super-rush. We made helping them our top priority and, if you give us the chance, we'll do the same for you.
We offer top-notch service at surprisingly reasonable rates. Unlike some companies, we don't play games with prices -- Bolt Printing believes in all-inclusive pricing (meaning no hidden or set-up fees) AND even offers free shipping on most standard orders to a single address.
So, what are you waiting for?