Choosing the Best Custom Sweatshirts: 8 Expert Tips
If you're hoping to get attention for your business, cause, or event through custom apparel, there's one thing you have to remember: For clothing to be seen, it must first be worn. (Or, in other words, what good is a custom shirt if it stays at the bottom of a drawer?)
During certain times of the year, shirts won't pull in nearly as many eyeballs because they may be covered by other layers of clothing, such as sweatshirts and jackets. And, while a custom sweatshirt is more expensive than a tee, that added investment could be well worth the price.
Why a custom sweatshirt?
So, what sets custom hoodies and sweatshirts apart from all other apparel, you ask?
-It gives people a warm feeling
Funny (or punny) as it sounds, people can feel warm and fuzzy about sweaters... because sweaters keep them warm (and are often fuzzy).
People can develop stronger feelings about apparel that offers them protection from the cold and elements. It taps into a very basic, primal nature -- a desire to feel safe, nurtured, protected. As a result, some people view sweatshirts as protectors of sorts. While it sounds silly, the concept isn't much different than the attachment somebody develops towards their home. (And some people feel very strongly about their homes, even if others don't.)
-More likely to be valued
How many promotional pens have you had over the years? How many coasters? Mugs? Keychains? Lanyards? The list of crap you've probably thrown out or lost is likely staggering. And who can blame you? These are cheap, nearly omnipresent items -- they aren't meant to be valued so you don't value them.
By contrast, sweatshirts are a premium item. It's far more of an investment for the company, charity, or organization that orders them. And because people recognize sweatshirts as being more expensive -- and therefore more valuable -- than many other promotional items, those garments are more likely to be saved and worn.
If you're ordering apparel to sell it as memorabilia for a team or school, not only might a sweatshirt be more appealing as a piece of general merchandise, but you can also justify charging a higher amount (where, even though a custom sweatshirt is more expensive, there's still a better profit margin).
-Everyday usage
Wearing the same t-shirt five days in a row might seem odd. But the same sweatshirt? Well, it'd be much less odd.
Because a sweatshirt is an added layer of clothing, it doesn't get dirty as easily as a shirt (or whatever else is between your skin and the sweatshirt). Besides that, it's much more common to see a sweatshirt reused than a t-shirt.
-Sweatshirts are durable
How long does a t-shirt usually last before it starts to look ratty? Because shirts aren't as thick (the result of having a lower fabric weight), the material is more likely to wear out a bit sooner. And, since people tend to wash t-shirts much more often (possibly after wearing them just once), a custom t-shirt will start to show issues that much faster.
Best uses for custom sweatshirts
Because custom crewneck sweatshirts are a bit more expensive than other custom apparel, they tend to be distributed a little differently. You're less likely to see a hoodie as part of a giveaway, but there are plenty of times where a custom hoodie has some overlap with a custom t-shirt.
And, although custom t-shirts might be the workhorse of custom apparel, they can't really compete with hoodies under a few circumstances.
-Outdoor work uniforms
While polos and t-shirts are great for employees working indoors, they aren't always the best choice for outdoor work.
If you have a landscaping business or construction company, your workers are going to be exposed to the elements. Any shirts they might wear will be covered up as a result, but the outermost layer -- which can be a hoodie -- will be seen by anybody who drives past the job site.
-Branded apparel
Do you run a business that customers like to associate with? Breweries, restaurants, clubs, and other companies in the service sector often don't just have customers, they have fans. And by tapping into that favorable brand perception, you can either turn a profit by selling custom apparel like hoodies and t-shirts or, at the very least, offset your costs (meaning you're getting free marketing).
The same is even more true for bands and other entertainers. Lots of people own band t-shirts and other apparel. If it's something your group offers, it could even help you seem like an even bigger deal (while, of course, getting your name out there -- after all, who does a better job of talking up a musical group than its fans?)
-Fundraising and merchandising
Whether you represent a charity, a local team, a school, or anything else, a custom sweatshirt can be an amazing way to generate some money.
8 Tips for choosing sweatshirts
When it comes to picking the right custom sweatshirt, all of your decisions should be geared towards how it'll be used. After all, what might be considered the best custom sweatshirt for one function may be lousy for another. Here are 8 important considerations.
#1 - Do you want to go with a hoodie?
The first decision is so large that it almost feels like its own thing: whether to choose a hoodie.
On a basic level, the "only" difference between a hoodie and a sweatshirt is the hood, but that hood fundamentally changes the nature of the design. And, from an appearance standpoint, hoodies and sweaters offer very different looks.
-Drawstrings
While hoodies are just hooded sweatshirts, that added hood impacts the design. As a result, hoodies overwhelmingly feature drawstrings to cinch the hood. Although a very practical benefit (that keeps the cold and weather at bay), drawstrings can distract from a design (or even partially obscure it).
It's worth nothing that the color can vary with drawstrings. Sometimes it matches the hoodie, other times it's different.
-The hood
The namesake of a hoodie, ultimately the hood is what sets a hoodie apart from a normal sweatshirt. And how much a hoodie will set itself apart may vary.
As with drawstrings, the lining of a hoodie can either match the exterior's color or a different color might be used. The result is drawing more attention to the hood, which is great if you want the hood to be noticed or are going for a more stylish look.
-More likely to keep you warm?
Can a hoodie keep you warmer than a normal sweatshirt? It's hard to be sure. Although you have an extra piece you can pull tight to seal (meaning, in theory, less cold air gets in), the hood will move with your head meaning the collar doesn't set as flush with your body as it otherwise might. As such, there might be an increased chance of being exposed to cold air.
That said, there are a lot of people who insist they feel warmer in one option than the other, so it might be personal preference.
(And, if you're looking for a warm hoodie, you can't go wrong with the CornerStone CS620 Heavyweight Full-Zip Hooded Sweatshirt with Thermal Lining (available in 4 colors). It's an 60/40 cotton-poly blend featuring a 100% polyester thermal lining and, at an 11.8 oz fabric weight, it's very thick and warm -- perhaps the warmest hoodie we carry!)
-Possibly the biggest sweatshirt choice you'll make
In short, custom hoodies are a huge departure from their standard counterpart. If you're a hoodie fan -- or buying sweaters for an occasion that suits personalized hoodies -- they're great.
As for the best custom hoodies, a few will be highlighted later on.
-The benefit of going hood-less?
It's worth noting that crewneck sweatshirts are massively popular right now. Although they'd fallen off for a long time, they've since come back in a HUGE way within the last year.
Whether the newfound popularity is driven by style or a hood seemingly feeling unnecessary, custom crewnecks have a lot of value as their own thing. And, because they're so widely appreciated right now, people are more likely to wear them (and therefore your design is more likely to be seen).
#2 - Thickness
A sweatshirt's fabric thickness is usually a good indication of its warmth. However, some materials insulate better than others. (For example, an 80/20 cotton-poly blend will be warmer than a 50/50 blend when both have the same garment weight.)
Besides the added warmth, a thicker fabric will wear less quickly than a thinner one (of the same material). And some people find thicker sweatshirts more comfortable -- like wearing a blanket.
Sweatshirts tend to be classified in terms of three weight classes:
-Midweight
Generally 7.5 to 8 ounces, a midweight sweatshirt is often a 50/50 cotton-polyester blend.
One example is the Gildan Heavy Blend™ Full-Zip Hooded Sweatshirt (seen above, the 18600 is available in 17 colors). Despite the heavy in its name, this popular sweatshirt is actually a midweight (at 8 ounces).
And while customers print a design on these sweatshirts, there's also an embroidered option available.
-Heavyweight
Generally 9 to 9.5 ounces, a heavyweight sweatshirt is also often a 50/50 blend.
An astounding example of a heavyweight is the Gildan DryBlend® Hooded Sweatshirt (seen above, the 12500 is available in 12 colors), which features Gildan's moisture-wicking DryBlend® fabric. It's a 9-ounce sweatshirt that you can customize either through screen printing (here) or embroidery (here).
-Heavy Cotton
Generally around 10 ounces (although sometimes going as high as 12), a heavy cotton tends to be the heaviest option. It's most often a 80/20 cotton/poly blend.
If you're looking for a thicker design, you could check out the Sport-Tek Super Heavyweight Pullover Hooded Sweatshirt (seen above, the F281P is available in 9 colors -- and there's also an embroidered option (the F281, found here)). It's a 12-ounce high-quality fleece designed for durability and comfort, which should keep you pretty warm.
Another 12-ounce option is the Independent Trading Company Heavyweight Hooded Pullover Sweatshirt (the IND4000, to be discussed a bit later).
#3 - Garment color
What colors are used in your custom design? An important -- but sometimes overlooked -- element is how the colors interact between custom designs and the garment they're placed on. When there's a strong contrast, the design can absolutely POP! but, should a wrong color be picked, it might blend too much and be missed.
As a general rule, most dark or bright colors on a white or light-colored garment will stand out.
Above is an example of custom hoodie order we printed for the Blue Ridge Beer Garden (located in Henderson, NC). Notice how the red makes the bar's gorgeous design stand out? It's an all-around eye-catching graphic design.
(By the way, the design was printed on a Independent Trading Co. Midweight Hooded Sweatshirt. Besides the color seen above (a grey heather, which might look a little different in the photo), this sweatshirt is available in over ten other colors -- and, I might add, it's a super-nice hoodie.)
Likewise, white and other light colors will stand out on a black or dark garment. Above are some custom hoodies we printed for NuForm Counter Top Co. in Fairview, Illinois. The color combination is simple but effective -- a white design placed on a charcoal custom hoodie (in this case, the PC850H -- available in 13 colors).
Although these businesses took different color approaches, they both picked a solid contrast.
#4 - Gendered hoodies
Although customers usually go with unisex custom hoodies, there is a women's style, too.
While the benefit of a unisex is the broader usage (which can be helpful whether giving custom hoodies away or selling them), female-specific hoodies can appeal a bit more to women and are a fantastic choice when going for a something a bit trendier.
One of the more interesting examples of a female custom hoodie might be the Independent Trading Co. Women's Lightweight Crop Hooded Sweatshirt (seen above, the AFX64CRP is available in 3 colors).
#5 - Zip-up
Zip-up hoodies and other sweatshirts are a bit more expensive their normal counterparts, but it adds a lot of perceived value which, in turn, can make people more likely to actually wear the hoodies.
The big advantage to zip-ups is convenience. A pullover hoodie is more of a hassle to put on and take off -- and can be unsightly, considering it pulls at the clothing underneath. However, zip-up hoodies are basically lighter jackets (although it's worth noting that zip-ups tend to be cheaper than jackets).
However, adding a zipper has a drawback -- the design space on the front of the sweatshirt will be broken up. So while a zipper might make a hoodie a bit nicer, you're losing out on the design space -- as illustrated above. (By the way, on the right is the Sport-Tek Super Heavyweight Full-Zip Hooded Sweatshirt. Available in 6 colors, it's great for both indoors and outdoors wear.)
#6 - Brand
A lot of people's idea of a great hoodie involves something from a specific brand. And it shouldn't be surprising -- brands are powerful, after all, conjuring instant associations with things like athletic achievement (in the case of Nike or Adidas), fashion (for a brand like Bella+Canvas), quality (such as the incredibly-consistent Gildan), and more.
While the best custom hoodies may not need to come from a specific brand, several are noted as doing phenomenal things or excelling in certain areas. If those areas happen to line up with what you're looking for -- or if you're attempting to appeal to fans of a particular brand -- then it might make a lot of sense to go with apparel from that company.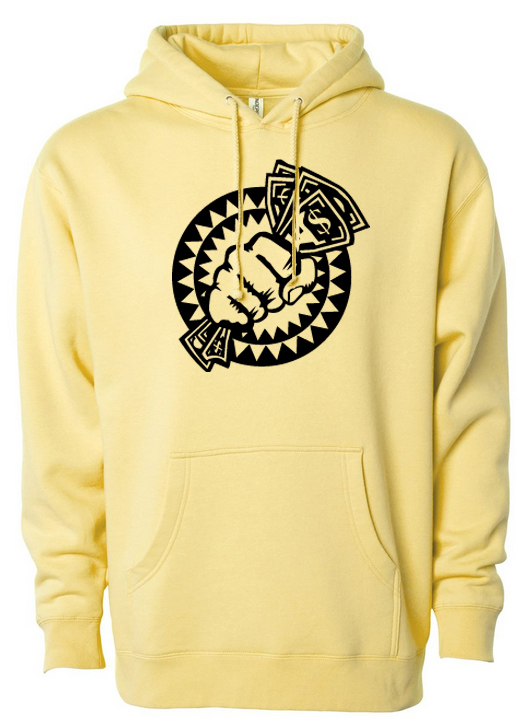 While not having as much mainstream name value as other major brands, Independent Trading Company has gained a reputation for making incredible blank hoodies. (The company is a personal favorite of Bolt Printing's founder.)
Seen above is Independent Trading Company's Heavyweight Hooded Sweatshirt (IND4000, available in 14 colors).
If you want something a bit lighter, you can check out the Independent mid-weight hoodie (SS4500, available in 12 colors).
Other major brands include CornerStone, Alternative Apparel, and Champion.
-Reasons for picking a specific brand
Gildan - Value (highly-consistent quality at affordable prices)
Sport-Tek - Athletic and other performance apparel
CornerStone - Durable, quality workwear
Port Authority - Upscale, very corporate-looking apparel
Bella+Canvas - Trendy, fashionable, retail-like brand
Independent Trading Company - GREAT quality, retail-like brand, and strong value
#7 -Performance/moisture-wicking
If the people wearing your custom hoodies are going to be physically active, you might consider going with more of a performance fabric.
Pictured above is Sport-Tek's Sport-Wick® Fleece Hooded Pullover (F244, available in 10 colors). It's a 100% polyester hoodie where the top layer releases moisture from inner layers, keeping its wearer's skin comfortably dry.
If you're outfitting athletes or employees working very active jobs, a breathable, moisture-wicking fabric (such as a 50/50 cotton-polyester blend) could help them maintain their performance.
#8 - Screen printing vs embroidery
Do you want a large, gorgeous custom-printed design on your hoodie? Or a smaller, more tasteful embroidery?
Your preference may influence the best custom sweatshirt for your needs. Although you can screen print on any sweatshirt, some may be better for embroidery than others.
While on a general preference level, most people seem to prefer a large screen print, embroidered hoodies definitely have their fans, too. Of course, what if you didn't have to choose?
Although not often done, some customers have ordered hoodies with embroidered logo on the front and then a larger print design on either the sleeve or back. More often, however, that logo will also be a print design.
Let Bolt Printing warm up your marketing or promotional campaign
If you've decide custom sweatshirts or hoodies are right for you, the next step is finding the right company to make them. Might I suggest... Bolt Printing?
Bolt has a tireless team of experts who've mastered the art of screen printing on hoodies and other apparel. Unlike other companies, we'll review your artwork and have you sign on proofs to ensure you're getting what you hoped for instead of just what you submitted. (And yes, there can be a HUGE difference at times since not all artwork translates well immediately -- even if some companies are willing to slap that version on a sweatshirt and call it a day, no matter how bad it looks).
On top of all that, we're fast. Bolt Printing prides itself on lightning-fast turnarounds, finishing rush orders by the end of the next business day (after the final approval has been given). And, by the way, we don't charge any extra fees for that -- you automatically get the next business day turnaround when you upgrade your shipping (in which case it's the shipping company that gets that money, not us). However, even without a rush order, the turnaround is usually about a business day or two (again, after the final approval -- so always approve those orders!)
And although our minimum order quantity on hoodies is 12, you stand to save more on bulk orders. (Because we don't digitally print on hoodies, you can't just order a single hoodie like you would a single custom t-shirt.)
Design your own hoodie today!
If you've longed to see your company logo on a hoodie or artwork on a sweatshirt, now is the perfect time to do it.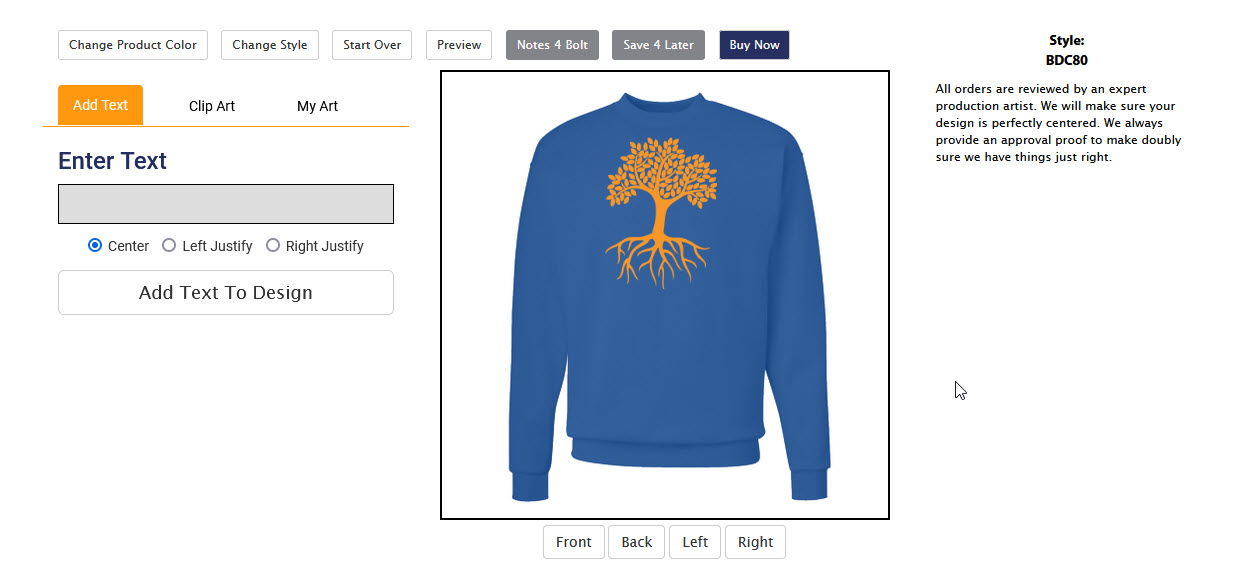 Bolt Printing's online design studio makes creating custom apparel easy. Simply upload your artwork into the studio, place it where you want, and add whatever other elements. It's that easy. Don't have your own artwork? Check out our wide selection of clip and other free design resources.
Our prices are routinely lower than that of major custom apparel companies like Custom Ink, Broken Arrow, Rush Order Tees, and others -- despite the fact we also offer high-quality products that either match or exceed the custom apparel they offer. (Or, in other words, our best custom hoodies are better than their best custom hoodies AND you can usually get it for less. In fact, just look at how we stack up when it comes to t-shirts, beanies, and hats on our pricing grid. We're not shy about our commitment to quality -- when it comes to custom apparel, we care... A LOT!)
Great prices WITHOUT sacrificing quality? How can you go wrong?
Does it get better? You bet! Bolt Printing offers free standard shipping on most orders. (Just within the continental US -- we don't have worldwide delivery, sorry!)
How can we manage to be this good while keeping our prices low?
Simple -- Bolt Printing isn't a middleman. We handle all of our customization at our headquarters in sunny Brookfield, CT where it almost never rains (which gets to a problem some years). And, with fewer people involved in the process -- and everybody working closely -- we're able to keep our costs down AND our quality up.
So, what are you waiting for?